Cost:

$14.99 ebook, $17.99 print
I love recipes – recipe books, recipe magazines, recipe web sites, you name it.

I'm not one to enjoy the same meal week after week – variety is the spice of life (especially while test driving new spices!).
My family, however, is just the opposite.

The hubby always tells me he'd be just as happy if I'd set up a weekly meal plan with the same meal each Monday, Tuesday, Wednesday, etc.

Then, he'd know what to look forward to and it'd be easier on me.

Well, except that I'd die of food boredom!
So, I compromise.

I try to find recipes that include the foods they like, but are used in different ways.

We do have a repertoire of foods everyone loves that we cycle through throughout the month, but throwing something new in from time to time keeps me happy.
My boys are growing up and their palates are maturing.

They are discovering new tastes and likes – this makes me quite happy!

My youngest has always had an interest in cooking, so when I received the Everyday Cooking e-book from

Everyday Homemaking

, I knew I wanted to get him involved.
What I really like is that the recipes are simple.

They appeal to my families palate and make my hubby happy.

Most of the recipes I've tried or considered have ingredients found right in my pantry.

None of this fancy stuff I have to go to some specialty food store to find knowing full well I'll probably get a "What's this? Yuck!" when I serve it.

Want to see what I mean?

Check out their web site where a few
sample recipes
from the cookbook are featured.
So, back to my son.

I told him to open the e-book on my computer and pick his three favorite recipes to try.

Later that day, he gave me his list.

I was surprised to see they were all entrees.

The recipe book includes appetizers, breads, main dishes and desserts.

If you would like to see the full table of contents, you can view sample pages from the book

here

.

He picked Chicken Quesadillas, Chicken and Dumplings, and Stuffed Shells.
All three of his choices were super simple and made for an entertaining time in the kitchen for both of us.

I got to teach him more about cooking, and he got to do the driving and put the meal on the table for our family.

We loved the quesadillas – we're all big time fans of Mexican food.

In fact, he invited his big brother and his brother's girlfriend over another night to join us and made them again.

They were a hit!
Chicken and dumplings were a lot of fun and an education for my Southern born family.

Here in the South, dumplings are large doughy noodles.

I'm not a fan.

Where I come from, out West, dumplings were biscuits that are cooked right on top of the chicken stew.

The recipe in this book is Western style.

The dumplings (or biscuits) came out perfect and gave my hubby and boys an appreciation for the non-Southern variety.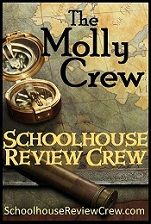 Stuffed shells turned out great as well.

I showed him how to put the filling in a Ziplock bag and cut the corner so all you have to do is squeeze the filling in instead of spooning it.
I really like this cookbook as a go-to family friendly option.

As I said, the recipes are simple and use ingredients right from the pantry.

Plus, anything that gets me and my boys working together to make something wonderful for the family has my seal of approval.

He's been assigned to pick three more – I can't wait to find out what we'll be dining on next week!
If you would like to see reviews by other Schoolhouse Molly Review Crew members – click
here
.
*** Disclaimer – I received this e-book free of charge as a member of the Molly Review Crew in exchange for my honest review.