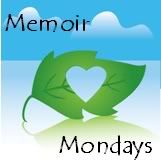 Yikes, what a fast week we've had! In addition, things are already starting to wrap up. One more week and both our co-op and our speech club will break for the holidays. Time has flown by! How about for you?
Here is a sneak peek of the questions for Memoir Monday. It's nice to walk down memory lane compiling a journal of the past to share with your family or kids. Won't you join me?
1. Did you serve in the military? If so, where and when?
2. Describe what your family did to get ready for the Thanksgiving holiday.