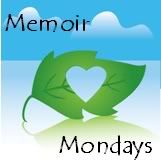 It's the week of Thanksgiving! I can't believe how fast it came… We're ready – mainly because I only have to bring three dishes for the feast. I'm so happy to live in a family of cooks. We will turn it out in a BIG way. Yum!
Here are the questions for this Memoir Monday – two things that have been on my mind a lot lately: Christmas and high school. Christmas we will be decorating for this Friday – can't wait for the house to be all festive. High school – wow! That starts in August… I'm a little nervous about that. Keep checking back as my high school and teen wandering get penned to my blog. Stop by and offer advice! That being said, here are my answers…. I can't wait to read yours!
1. Describe a typical day during your high school years.
2. Describe getting a Christmas tree as a child, when did you put it up and decorate it?
1. Describe a typical day during your high school years.
I remember really disliking going to school. I loved to learn; I just didn't like to attend. It was easier for me to miss school and do all the work at home. I guess I was a homeschooler at heart and just didn't know it.
A typical day, when I went, my senior year, started with my friends picking me up or vise versa. We all loved to drive to school and pile as many people as we could in the car in the process. We got to school, did our rounds of socializing and then headed off to classes. I don't remember much about classes, except the ones I didn't invest in. For example, gym. I would jog around the gym a couple of times and then out the back door when the teacher wasn't looking. For photography, if my friend and I brought an ice cream sandwich, the teacher would let us leave. I invested in a lot of ice cream sandwiches. Same with any assemblies – straight for the cars and the mall. Bad, I know. I just knew I didn't need to be there to succeed. Unfortunately, that wasn't true for all of my friends, so, in reality, I was a bad example.
Looking back, high school was tough. We moved my senior year; prior to that I went to a high school where I felt like a total outcast. My senior year was fun, but not very academic.
2. Describe getting a Christmas tree as a child, when did you put it up and decorate it?
We had an artificial tree growing up. Right after Thanksgiving, we would drag out the box and begin to assemble the tree. The branches had color coded dots on the end of them that were inserted into the like colors on the three piece wooden trunk. Then we would put on all the ornaments (my parents did the lights). That was always fun as many of them were handmade. Finally, a layer of tinsel. I loved tinsel as a child. I won't have it in the house now, but I thought it was beautiful then. Now it's more mess than beautiful. That is true for real trees too – I love the smell and the feel, but the dry pine needles drive me nuts. We had a fake cardboard fireplace that we put up every year. It had a bulb with a little metal piece you set on it that would spin and give the illusion of fire. The stockings were hung from that fireplace. It was a great time to be a kid.