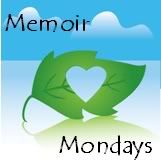 I just booked a flight to Colorado to see my family. I try to go at least twice a year, but this time it's been longer than typical. My grandmother has been asking me to come. She's really struggling taking care of my grandfather with dementia - they are 97 and 96. I'm on my way Grandma!
Anyway, that got me to thinking about travel and grandparents. Thus, this weeks Memoir Mondays below. Won't you join me?
1. Do you recall any outstanding family trips or summer holidays you experienced as a child?
2. Do you remember any of your four grandparents? Any greats? What were their names? Any memories that you have.
Blog your answers, then come on back and link up (yes, links are BACK!). Or, you can just leave your answers here. I love to hear about travel, and I'd love to know about your grandparents!