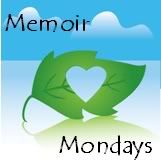 We love technology in our home. We have multiple computers, the boys love their video games, and the hubby is all about digitizing music. We don't always own the latest and the greatest, however. It's all about function not fad for us. That got me to thinking about technology "back in the day", hence this week's Memoir Monday Sneak Peek.
1. What "technology" do you remember having around the house as a child?
2. What video games did you grow up playing? What was your favorite?
Post your answers and then come on back Monday and link up. See you then!