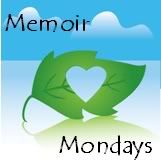 We are redecorating! I'm enjoying it tremendously... There's a lot to do, but the impetus to spruce up the house is always nice. Last summer, we put the house up for sale. As a result, rooms got cleaned, junk got taken away, two rooms got painted and the garage was organized. The house didn't sell, but the cleaning was cathartic!
Here is the Memoir Mondays sneak peek:
1. What did your room look like when you were growing up?
2. Did your family move when you were a child? If so, what do you remember most about it?
Post your answers on Monday and then come on back and link up...