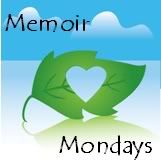 I'm a little late in posting this. We just finished our first Christmas party of the season. Each year we get together with my husband's, father's family for a party. This year we were the hosts. Eight pizzas, numerous dips and tons of desserts later - fun was had by all!
Monday Memoir will be taking the Week of Christmas off. I'll be ready to start back the week after.
Here are the Monday Memoir questions – pop by, check them out, and link back up on Monday…
1. What is the best gift you have ever given?
2. What is the oddest gift you have ever received? What did you do with it?