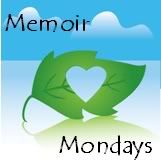 Welcome to Monday Memoir Sneak Peek – these are the questions for this coming Monday. Remember to come back here on Monday and post your responses!
This week I've been struck with what the Southerners like to call the crud or epizoody (spelling?) – I don't spell Southern. Anyway, the gist is a nasty cold. In addition, we're expecting rain tomorrow. Please Rain! My poor lawn…. So that got me to thinking about the questions for this week.
Do you like rainstorms? Why or why not?
Describe the most serious illness or accident that you have had.
I'm looking forward to seeing what you post. When you click the linky to post, that's when you see others who have posted as well. Not my favorite format, but the way it works for now.
Post your responses weekly to the memoir questions, and you too can assemble a set of memories for your children and grandchildren to cherish for years to come. Of course, if assembling isn't your thing, then just join as we enjoy the walk down memory lane.